Venue
Juliusz Slowacki Theatre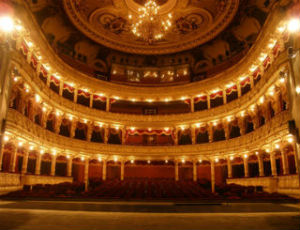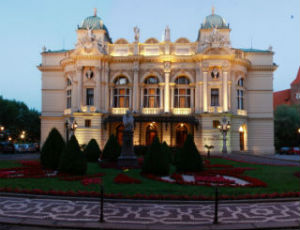 The theatre
has been continuously staging plays since 1893. It is one of the most famous and distinguished Polish theatre scenes. The edifice, designed by Jan Zawiejski, is ranked among the most valuable monuments of theatre architecture in Europe. There is an inscription of its façade: "Kraków for the National Arts".
The legendary Theatre started to fulfil its role as a national theatre just at the turn of 19th and 20th centuries. It was a birthplace of Polish modern theatre direction, stage design, staging and the acting profession.
The Slowacki Theatre is not only the culture place but also the perfect venue for conferences and congresses. It has only one three-level, air-conditioned auditorium room with capacity of 530 guests and it is suitable for disable persons.
Theatre provides: professional technical service - lighting, sound system, professional service of audience (ushers, cloakroom). The lobby and foyer with a total area of 200 m2 can be used as an exhibition space.
Since 1989 the Theatre has held many national and international congresses such as:
• international symposia and conferences: Conference on Security and Cooperation in Europe CSCE, global celebration of the liberation of the concentration camp at Auschwitz-Birkenau, the international conference of Europa Nostra, the deliberations of the European Society of Clinical ESCI, the World Conference of Historical Cities, international medical conferences, the Ministerial Conference of the Council of Europe;
• Anniversaries: Krakow Theatre School, the Piwnica, Radio Krakow, the 100th anniversary of cinema, "Tygodnik Powszechny", University of Economics, Jagiellonian University, Cracow University of Technology, and many others.

Address:
J. Slowacki Theatre
Plac św. Ducha 1
31-023 Cracow